Awards
Bizintek 2018 Award (2019)
JAVIER DE MARTIN GIL has been nominated for the Bizintek 2018 Award "Premio Bizintek 2018 al Proyecto de Fin de Grado para Ingenieros" with his work "Modelo basado en redes neuronales para la predicción de disponibilidad de un sistema urbano de préstamo de bicicletas" (Neural network-based model for predicting availability in an urban bicycle loan system ) supervised by Aholab team member Ibon Saratxaga. In the end, he won the second prize of the award
The University of the Basque Country has recognized INMA HERNAEZ's academic and research career on the occasion of International Women's Day (2019)
Estas mujeres de la UPV/EHU destacan por su trayectoria docente, investigadora y divulgadora, y constituyen un ejemplo en sus áreas de conocimiento: Ciencias Sociales y Jurídicas: Adela Asua Batarrita, catedrática de Derecho Penal Ciencias: Maribel Arriortua Markaida, catedrática de Cristalografía y Minerología Artes y Humanidades: Lourdes Oñederra Olaizola, catedrática de Filología Vasca Ciencias de la Salud: Begoña Ochoa Olascoaga, catedrática de Fisiología Ingeniería y Arquitectura: Inma Hernáez Rioja, catedrática de Ingeniería de Teoría de la Señal y Comunicaciones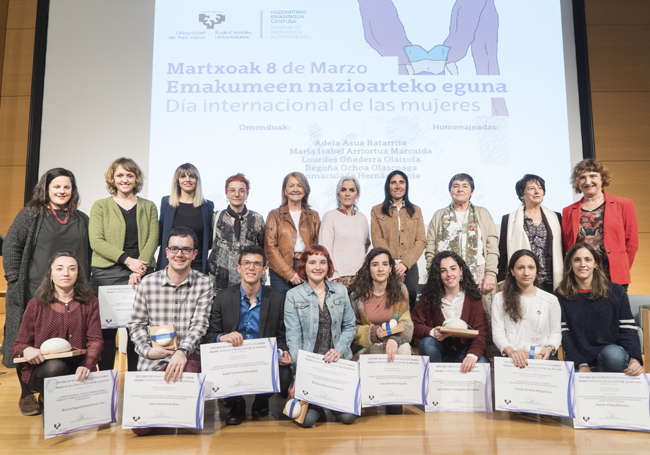 premio al mejor Trabajo de Fin de Grado en el congreso SEPLN2019 (Sociedad Española para el procesamiento del lenguaje natural) (2019)
MIKEL ARTETXE has received one of the Facebook grants for the completion of his doctoral thesis (2019)
MIKEL ARTETXEK Facebookek doktorego tesia egiteko ematen dituen beketako bat jaso du. Mikel UPV/EHUn egiten ari da doktoregoa, Informatika Fakultateko IXA ikertaldearen baitan, Hizkuntzaren Azterketa eta Prozesamendua Masterra amaitu ondoren. Doktorego tesia egiteko 21 beka eman ditu Facebookek aurten, munduko txoko guztietatik jaso dituen 900 eskarien artean. Facebook bekak bi urteko iraunaldia du eta 37.000 dolar estatubatuar ematen ditu urtean, gehi biltzarretara bertaratzea xede duen laguntza osagarri bat ere. Kanpoko sariek hemengo ikerkuntza goi-mailakoa eta interes handikoa dela erakusten dute "Facebook beka -azaldu du Mikel Artetxek- orain arte egindako lana aitortzera dator eta, halaber, babes garrantzitsua da nire ikerketa ibilbidean aurrera egiten jarraitzeko. Pertsonalki oso pozik nago, baina ez dut gure kolektiboak orokorrean pairatzen duen prekarizazioaren ikuspegia galdu nahi. Baldintza duinetan ikertzen jarraitzea ahalbidetuko didan erakundea atzerriko multinazional bat izateak berak hausnartzera bultzatu beharko gintuzke"
Ayuda de investigación de La Fundación BBVA (2019)
Google faculty research awards 2019 (2019)
Google Faculty Research Awards, is a program focused on supporting the world-class technical research in Computer Science, Engineering and related fields performed at academic institutions around the world. These awards give Google researchers the opportunity to partner with faculty who are doing impactful research, additionally covering tuition for a student.