The venue
The GWC 2023 conference will be held at the Joxe Mari Korta Center auditorium, located on the Ibaeta campus of the University of the Basque Country in Donostia-San Sebastian.
Address
University of the Basque Country
Joxe Mari Korta Center - Avda. Tolosa, 72
20018, Donostia-San Sebastian (SPAIN)
See below for how to get to the Joxe Mari Korta Center.
Travel information
Donostia-San Sebastián has 3 airports (2 international) within just over 100 km of the city. There are buses that connect the bus station (city center) with the three airports:
The train station at the center of San Sebastián, the Estación del Norte, offers connections to numerous Spanish cities, including Madrid and Barcelona, and to international destinations such as Paris and Lisbon.
There is also a railway, the EuskoTren, that serves cities along the Basque Coast, such as Zarautz, and links in Hendaye and the SNCF French rail service.

The bus station, Estación Donostia Geltokia, also has regional, national and international connections.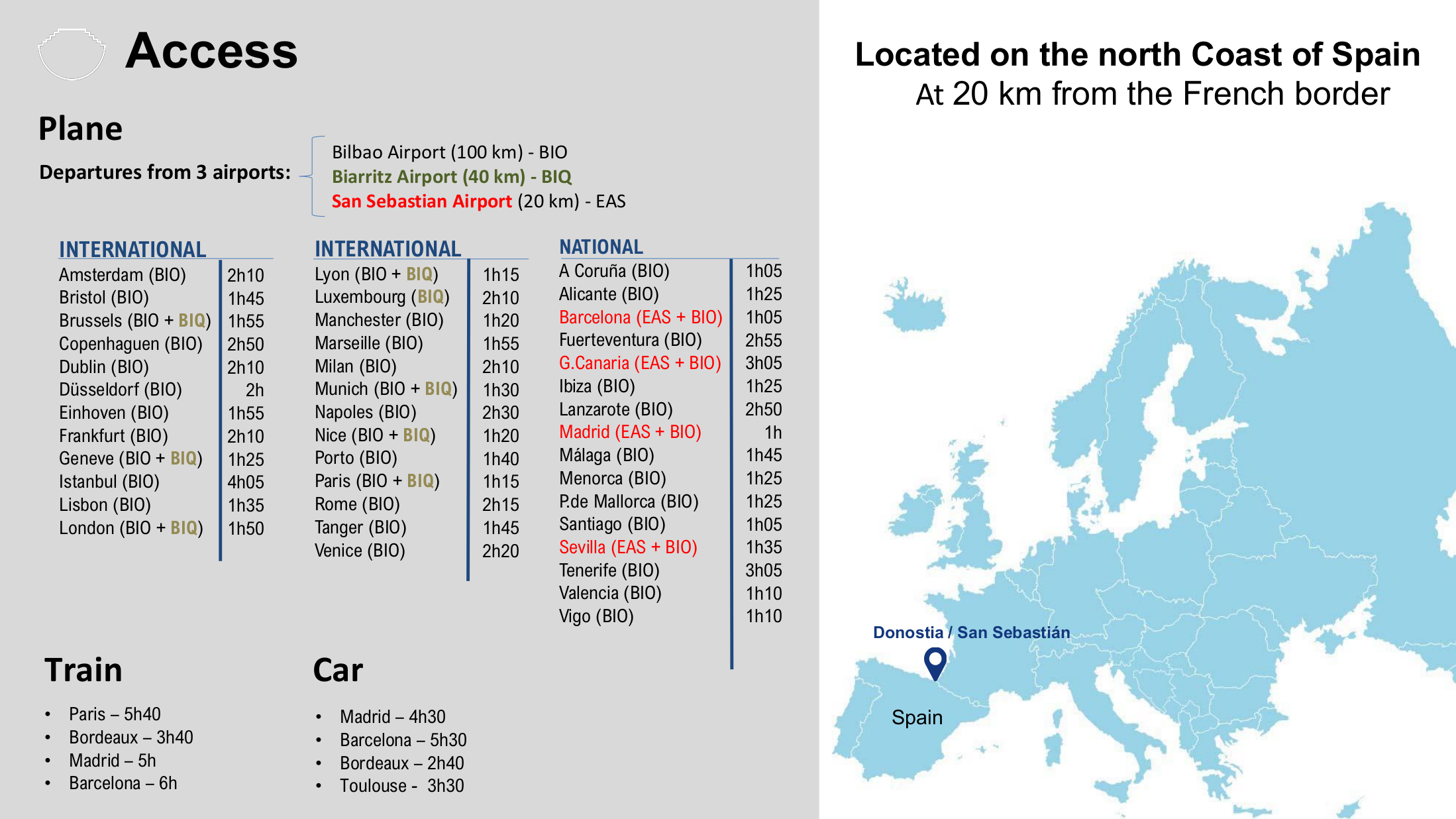 Moving around
The neighborhoods close to the venue are the Antiguo, Ondarreta, Ibaeta and Igara. Walking to the city center takes 40-45 minutes and there are buses (lines 5, 25, 45, 33, 40, 24, 27) every 6-10 minutes to the university.
Donostia-San Sebastián is people-friendly; it is easy to get around using the public transport services that connect the different parts of the city. Donostia-San Sebastián has a large city bus fleet run by the company Dbus. There are also many buses that connect the city to the nearby towns (Lurraldebus). Check the public transport information for all the options and the most convenient travel tickets.
Donostia-San Sebastián also has many cycling lanes and bicycles can be rented.
Accommodation
Donostia has many accommodation options, including student dorms.